**Update: We've had a chat with Adam, and his response is at the bottom of this article**
The Bachelorette's Adam Todd is tipped to become The Bachelor 2021, and it seems he's already living life as if he's landed the job.
After it was reported this week that he's been growing close to Bella Varelis in Sydney, model Kara Jane has claimed she's been dating him in Perth – along with two other women.
In a series of (now deleted) Instagram Story posts, Kara pulled out some serious receipts and shared a very compelling timeline to Adam's love life. We obviously saved all of her posts, so here you go…
OCTOBER 24: KARA
On Friday, Kara first shared this pictured with Adam to her Instagram Story, dated October 24. She proceeded to tag the other three women he has recently been linked to.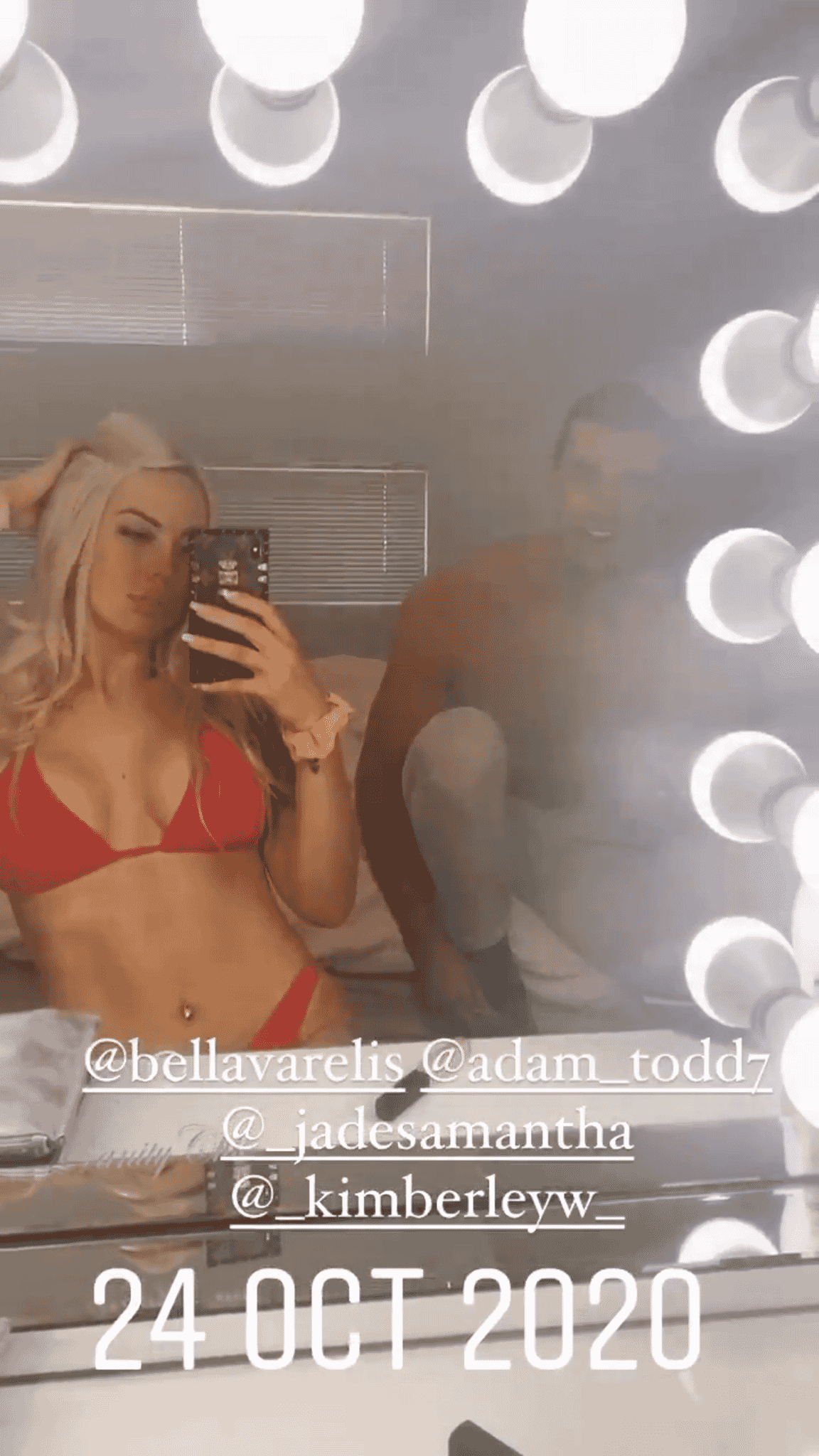 OCTOBER 26: KARA AGAIN
Kara then shared a clip driving with Adam, showing they were still together on October 26. 'First you're with me,' she captioned the clip.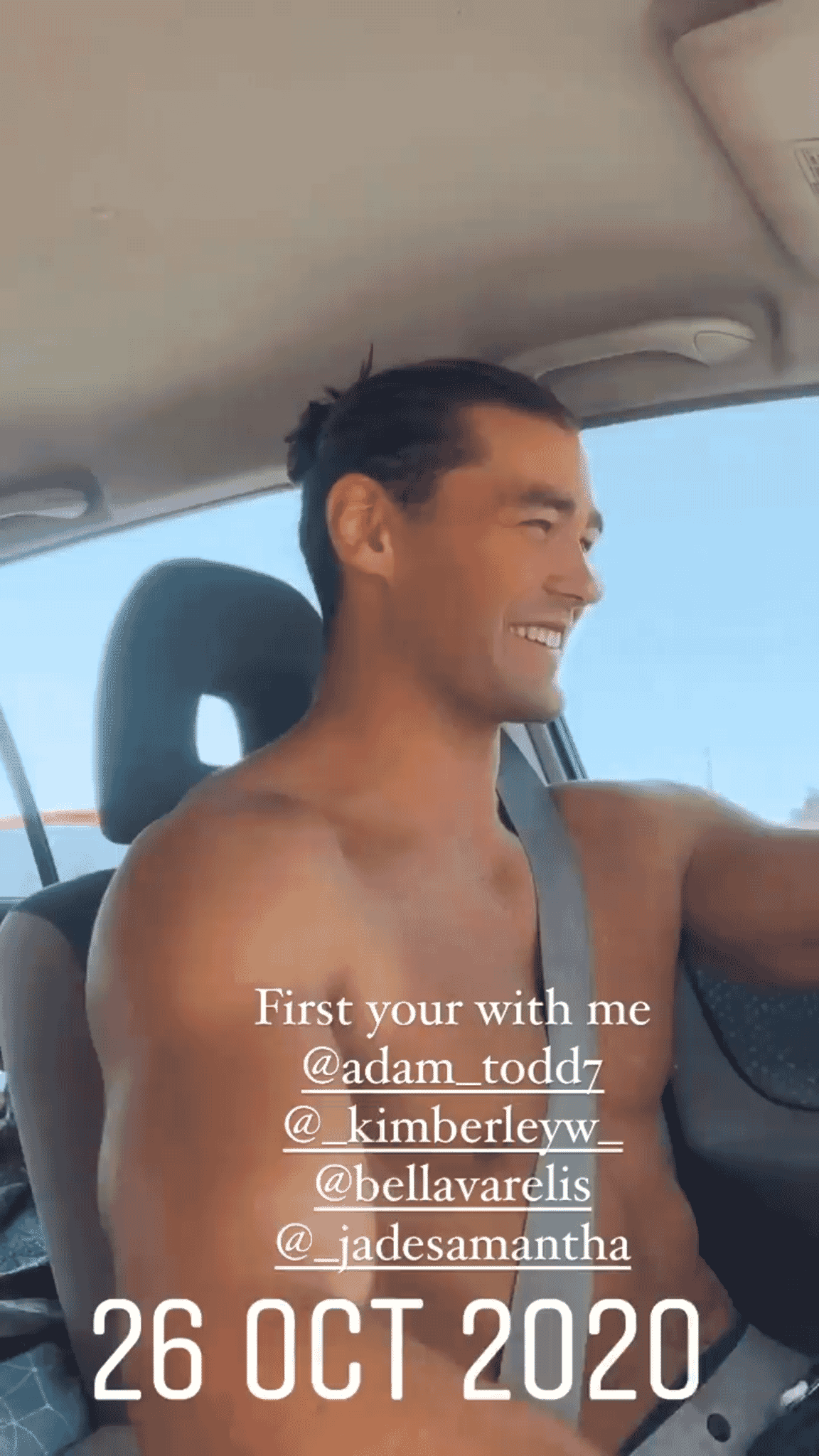 NOVEMBER 3: JADE
Kara went on to share a picture of Adam posing with influencer Jade Samantha at a Melbourne Cup event in Perth on November. 3 She claims Adam kissed Jade, then asked Jade to tell Kara 'he was in a relationship'.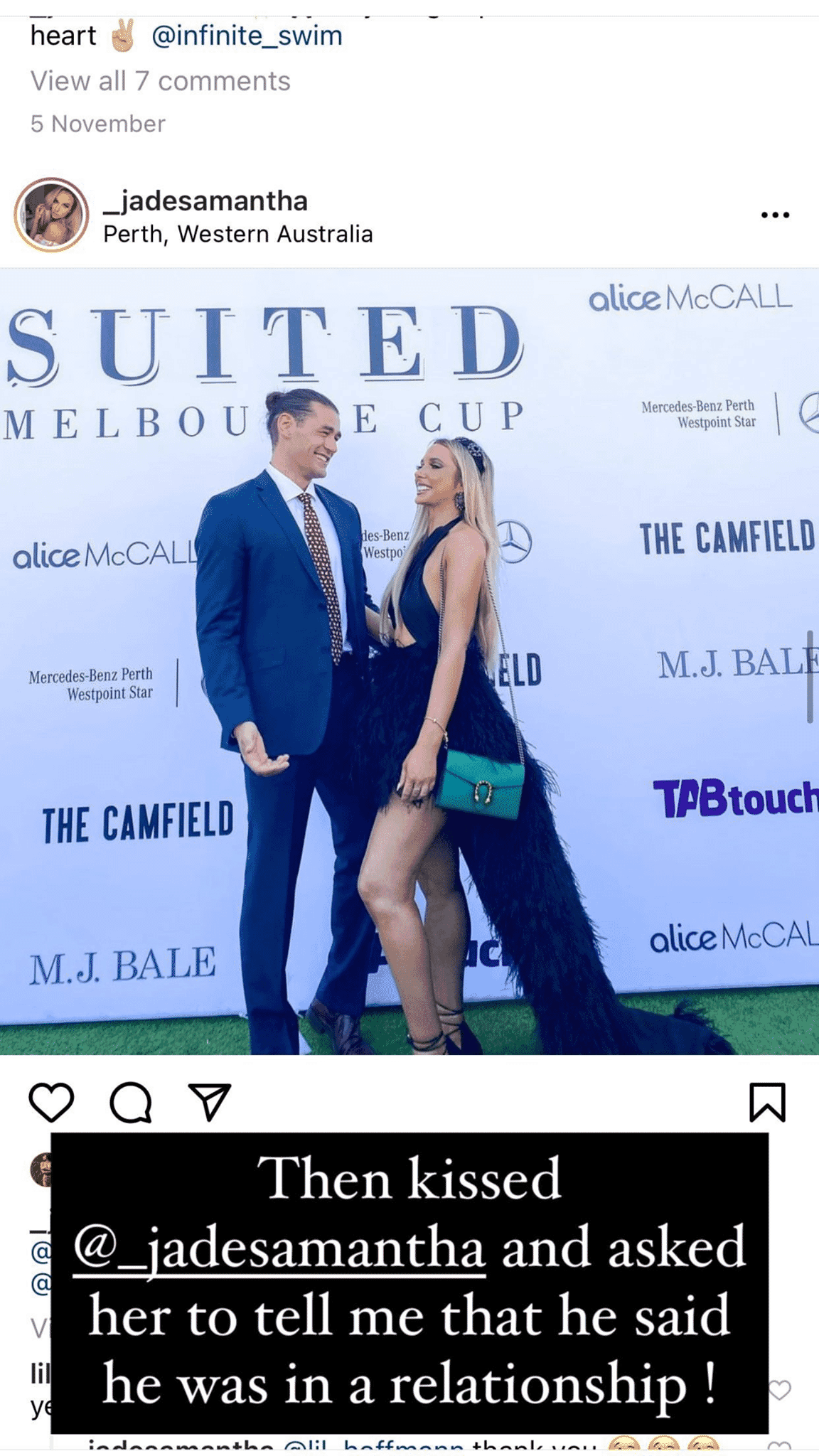 NOVEMBER 3: KIMBERLEY
Kara then claimed that Adam actually left the Melbourne Cup event with a third woman, Kimberly W. Yes, we're also confused.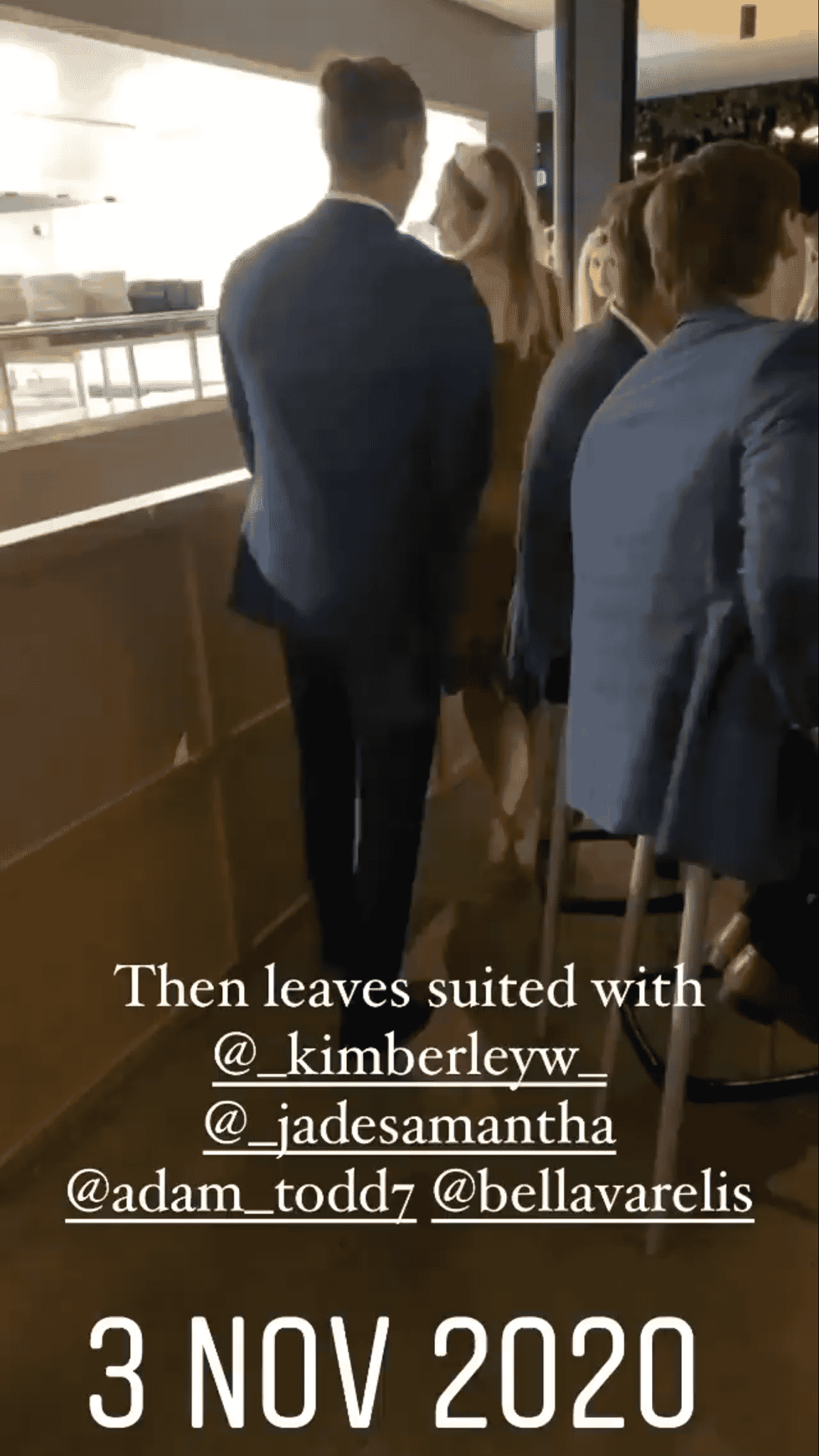 NOVEMBER 3: WORLDS COLLIDE
Following the Melbourne Cup event, Kara and Jade had a chat over Instagram DMs. Jade sent Kara a screenshot of Adam indeed telling her to say 'he's in a relationship' and 'can't get with anyone'.
In fairness to Adam, he also told Jade that Kara was an ex-girlfriend of his – so there's possibly much more to this?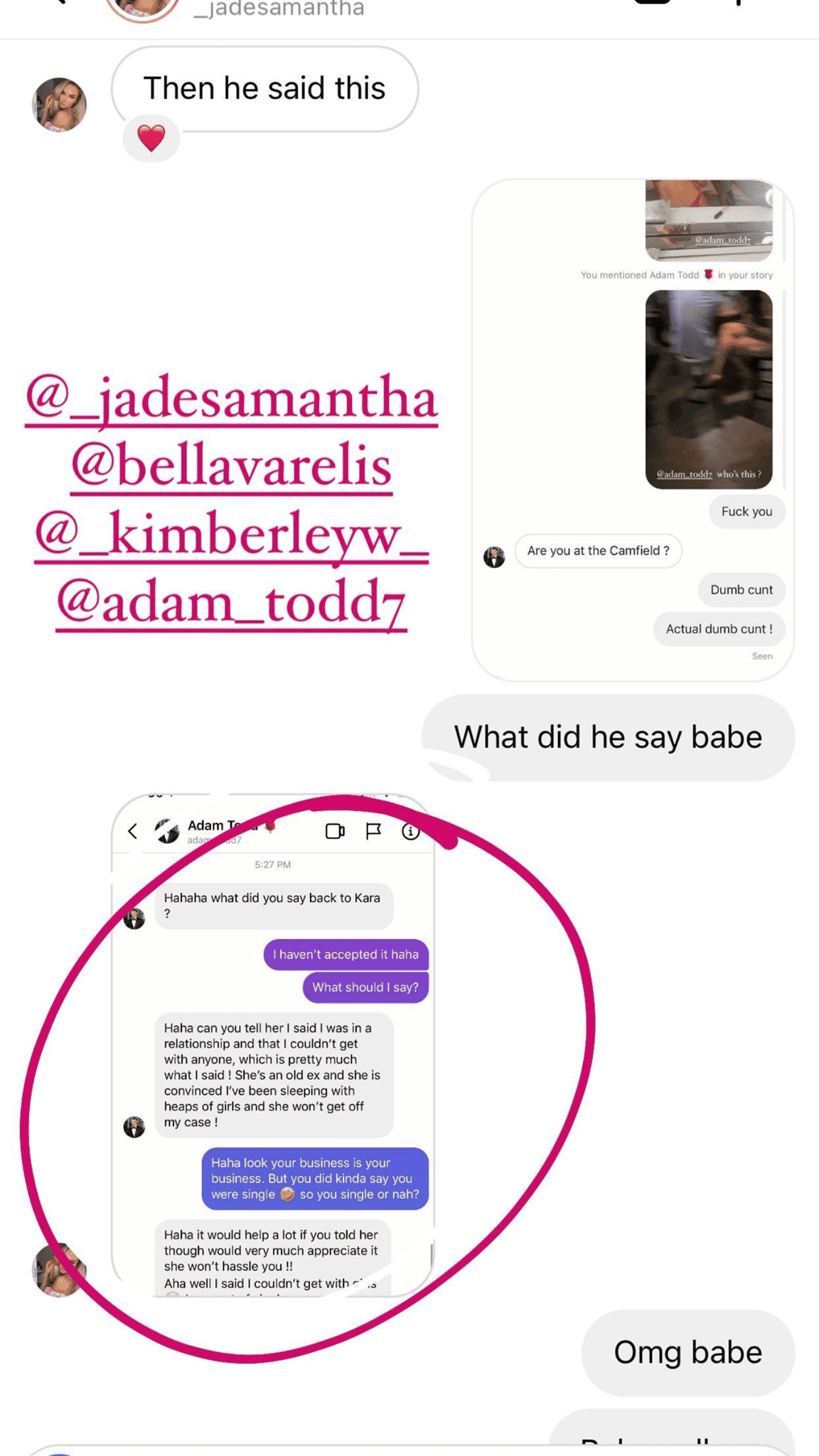 NOVEMBER 5: BELLA
Two days after the Melbourne Cup event, Adam confirmed on The Project that he's been sharing some flirty Instagram DMs with Bella Varelis.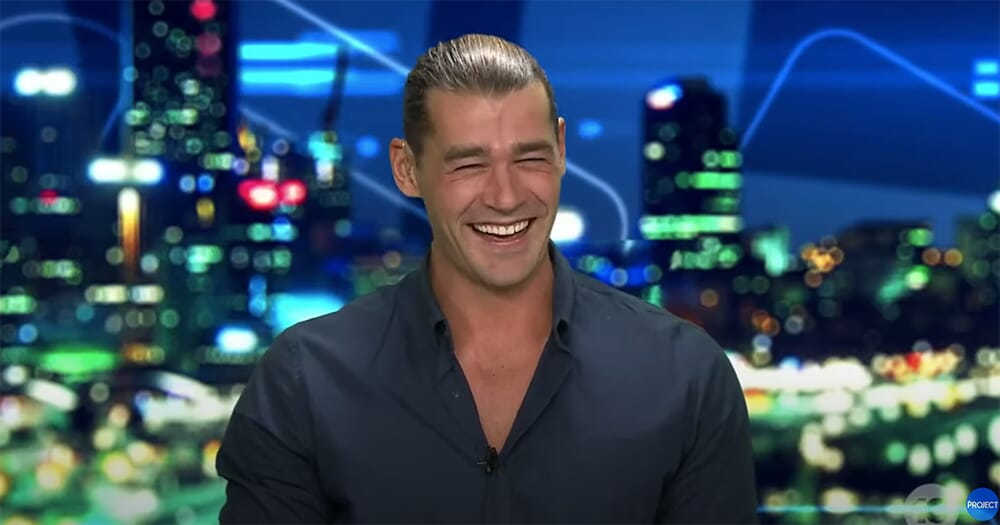 NOVEMBER 11: BELLA VARELIS
Within hours of moving from Perth to Sydney on November 11, Adam met up with Bella along with other Bachie stars. They looked cosy.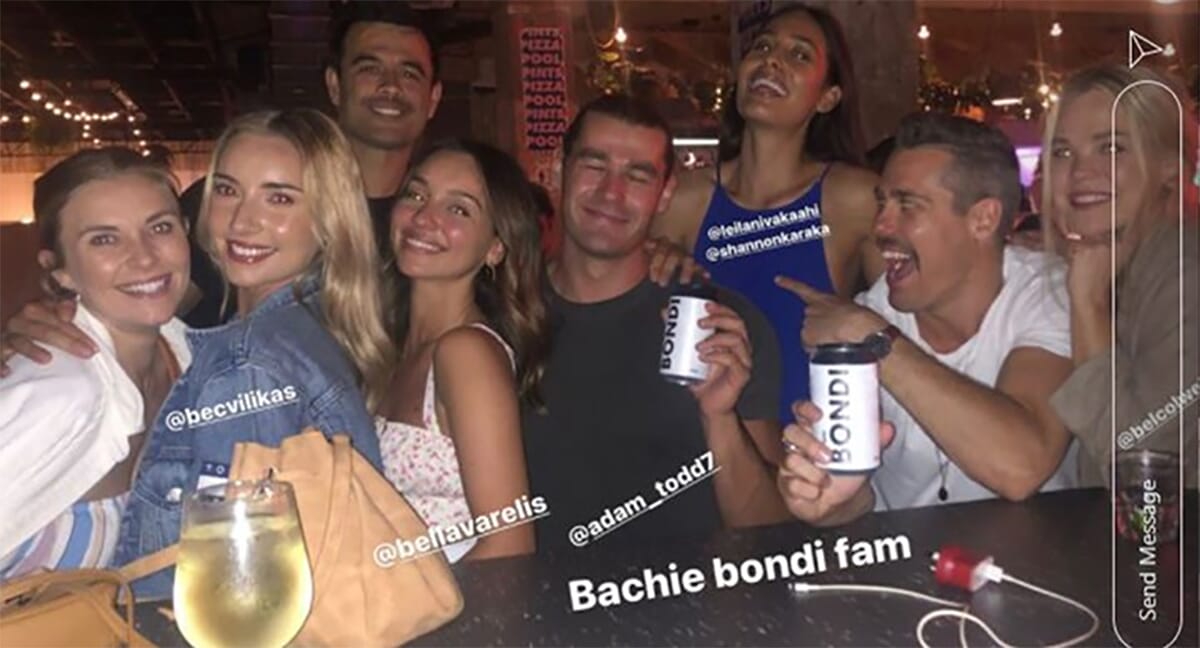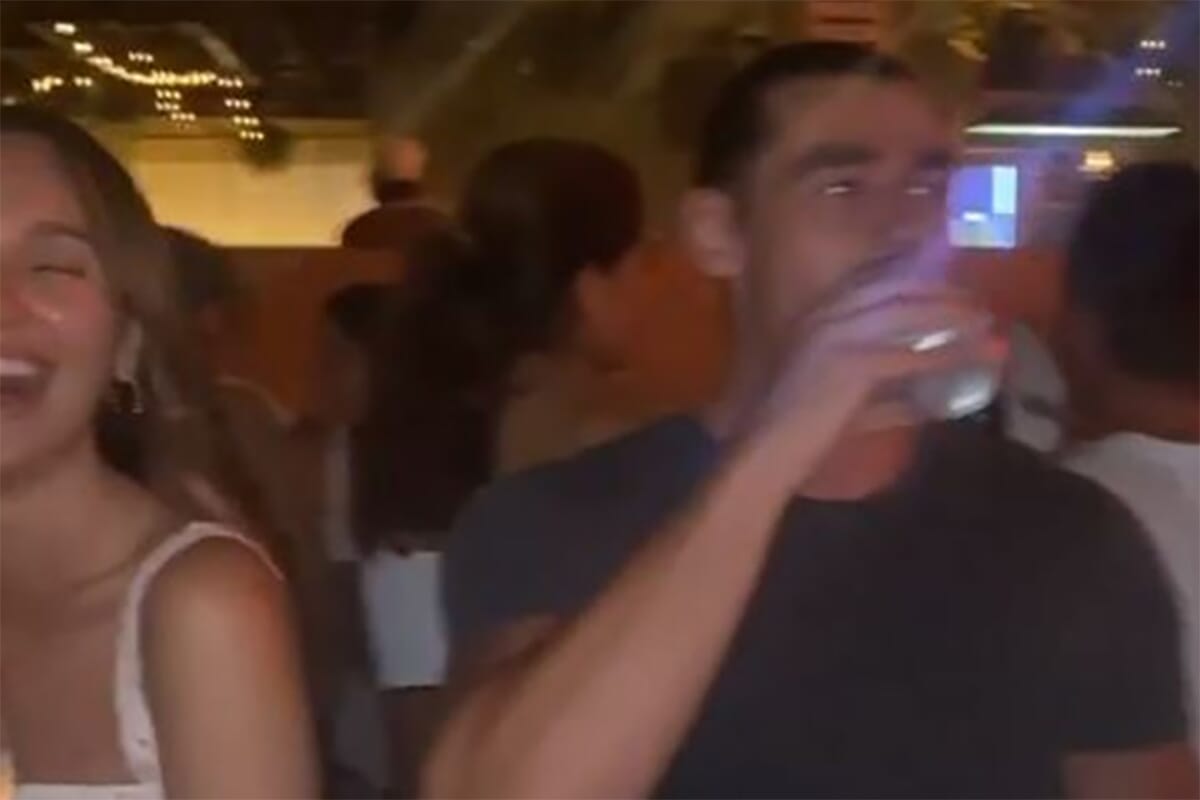 SO WTF IS GOING ON?
As these screenshots circulate among fans, we had a quick chat with Adam to get some more context on the situation.
He confirmed to us that since leaving The Bachelorette in September, he had been casually dating in Perth and met up with Kara 'a couple of times' – but is completely single.
The reality star also explained that knowing he was moving to Sydney in November made it difficult to form any serious connections over recent months; and also having to keep his personal life a secret while the show was still airing proved difficult. He's now looking forward to hopefully finding the one now he can date freely and settle into his new home.
PS: Yes, he seemed every bit as genuine talking with The Wash as he appeared on the show