She may only be joining The Bachelor during Wednesday's episode.
But despite being a tad late to the party – it seems intruder Bec Cvilikas wastes no time forming a pretty strong connection with Locky Gilbert.
In a bit of a mess up over in the editing department, the blonde actually featured in Locky's first episode of the season, with his opening montage containing a clip of the pair getting very intimate.
They were seen huddled up in a kayak wearing wet-suits and helmets, trying to keep their balance while going down the rapids, oh, and also making out – with the scenes set to air in the coming weeks.
Did you spot her back in the very first ep?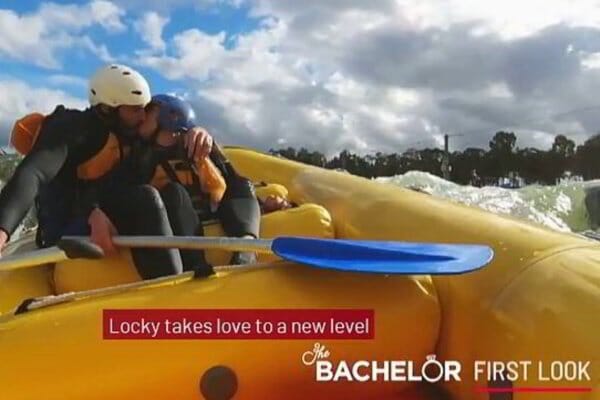 The new arrival, who is originally from the Sunshine Coast but now resides in Sydney, says she had instant chemistry with Locky when they locked eyes for the first time over Zoom.
'It's insane how much you can feel for someone when you've only met them online,' she told TV WEEK on Monday.
'The second Locky and I connected on the screen, there was this instant spark. You couldn't have wiped the smiles off our faces if you tried!'
We just can't wait to see the other girls' reactions when she pops up on the video chat.
Cue *shocked* faces all round.