Married At First Sight's Beck Zemek has elaborated further on what happened in the gym with Bryce, when he told her all about his 'secret girlfriend'.
Or alleged 'secret girlfriend', should we say.
Speaking to Nova 100's Chrissie, Sam & Browny at their recent mini-MAFS reunion in Melbourne, Beck claimed Bryce would often hit the gym at the same time as her – and Jake actually interrupted the controversial encounter in question.
And she seems pretty certain of everything.

Here's what Beck said:
'I'm a gym junkie. When I'm in the gym, running on the treadmill, dancing, there is a press machine behind the treadmill and for some reason that was Bryce's favourite place to sit when I was in the gym. The funny thing he pretty much said, "I put you as the hottest". Why would you say that? He goes, "I'm not telling you where I put you". I was like, "hmmm didn't ask". He said, "actually I'll tell you, I put you first". I thought someone is flirting with me, that's when he started unravelling himself [talking about the girl he had on the outside] and I stopped running. Jake actually came and interrupted the conversation, walked on through to come and get me. The best thing I think I did, as I was walking [out] I said, "Jake we've got a cuckoo on our hands, this was what [Bryce] said, what do I do?" That was before Bryce started going for Sam [Carraro].'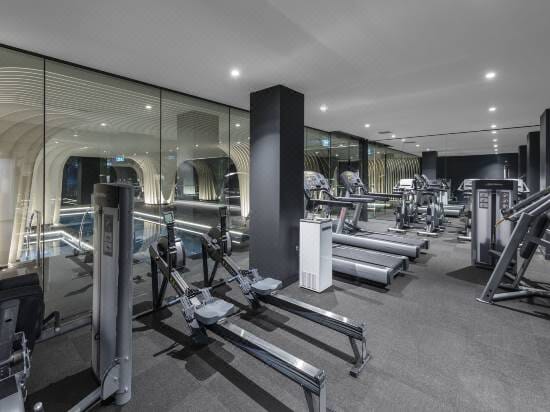 For anyone doubting Beck's comments, this all apparently happened at the gym inside the cast's Skye Suites apartment building on Kent Street, and we've just had a lil Google and there is indeed a press machine behind the treadmill…
Despite this, Bryce has always denied 'hitting on her' in the gym, or speaking about his rumoured secret girlfriend back home in Canberra.
This storyline really will never end, will it?