Married At First Sight's Bryce Ruthven repeatedly denied having a secret girlfriend during Wednesday's dinner party episode, after Beck Zemek claimed he'd told her he did.
The whole scandal blew up in front of the entire group, with Bryce's 'wife' Melissa Rawson left upset by the accusations, but ultimately believing him.
Which she may soon regret.
Following tonight's episode, the scandal is set to dominate the rest of the season as more and more evidence mounts up against Bryce.
Here's what we know…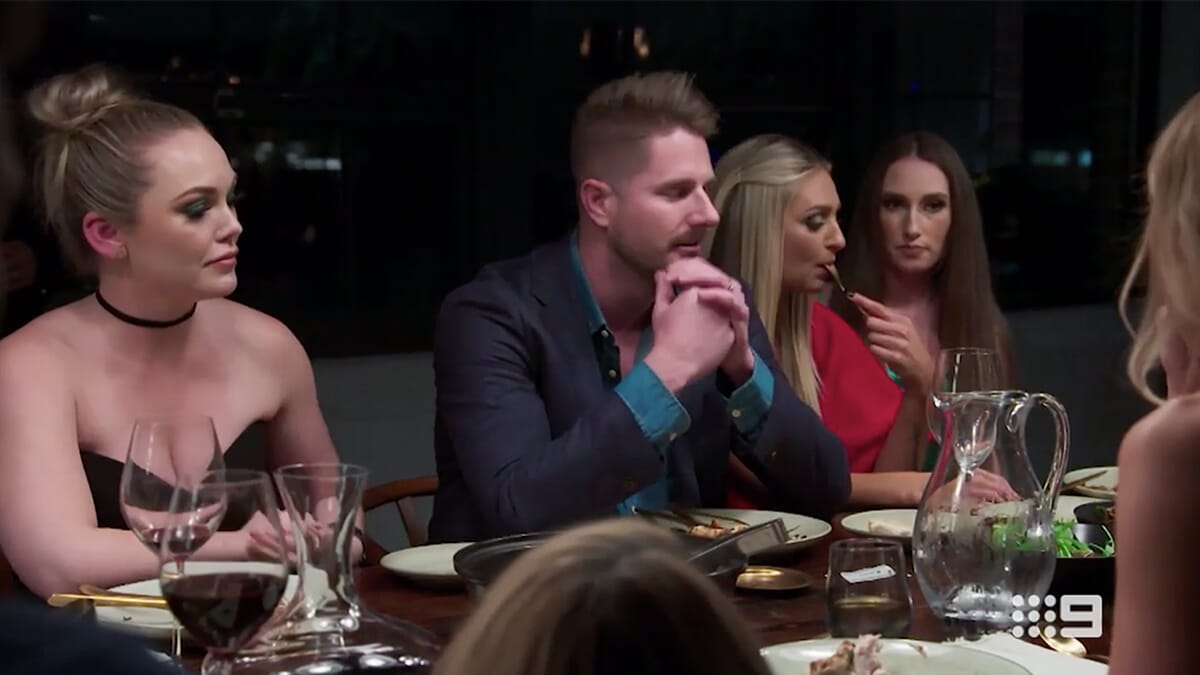 Bryce's mate leaked it all
During a recent interview on The Anj, Rob & Robbo Show, former Big Brother star Jason Roses revealed he accidentally leaked the whole secret girlfriend scandal to MAFS producers.
While attending Bryce's wedding to Melissa in September, Jason started talking openly about the girl Bryce was apparently still seeing – forgetting he was wearing a microphone, surrounded by cameras.
'I was talking to someone off camera, so I thought the camera wasn't recording me. And I might have said something that is going to cause big, big [drama],' Jason said.
It's believed that producers will play the clip of Jason confirming he did have a secret girlfriend to the entire cast at the reunion.
'He tried to visit her'
Following Jason's interview, Woman's Day later claimed that Bryce 'texted, FaceTimed and even tried to visit his secret girlfriend during filming' – and they'd been seeing each other for 'three to four months' before he went off to do the show.
The magazine also claimed that Bryce even told a co-star about his secret girlfriend during a boozy dinner party – who then told the rest of the cast.
Samantha's dragged into it
There are also rumours that Samantha Jayne Harvey is set to find herself at the centre of the scandal when she returns for a Girls' Night.
We're hearing that Sam, who is from Canberra, just like Bryce is, discovered he had a secret girlfriend after leaving the show and returning home.
So when she then returned for the Girls' Night, she wanted to make sure Melissa knew all of the facts, not wanting her to feel like she did after finding out Coco and Cameron had been meeting up behind her back. It sounds juicy.
And here's what our source says…
The Wash's source, aka someone who works on the show and is usually very reliable, has told us that most of the above is pretty much true.
We're told that Bryce was dating Courtney for a few months before filming, and 'planned on getting back with her afterwards, as he saw the show more of an opportunity' than anything else.
'Bryce never thought he'd be matched with someone he'd actually like, and thought the show would just be great to boost his career a bit and he explained this to Courtney,' our source tells us.