Bryce Ruthven and Melissa Rawson's controversial relationship on Married At First Sight may change the top-rated reality show forever.
As Channel Nine face a potential investigation over their scenes from the Communications and Media Authority, over 11,000 people have now signed a petition urging the network to apologise for 'failing their duty of care' towards Melissa.
Meanwhile, Delia Donovan, the CEO of Domestic Violence NSW, has publicly stated that 'shows like Married At First Sight can be incredibly harmful for viewers watching at home' amid the backlash.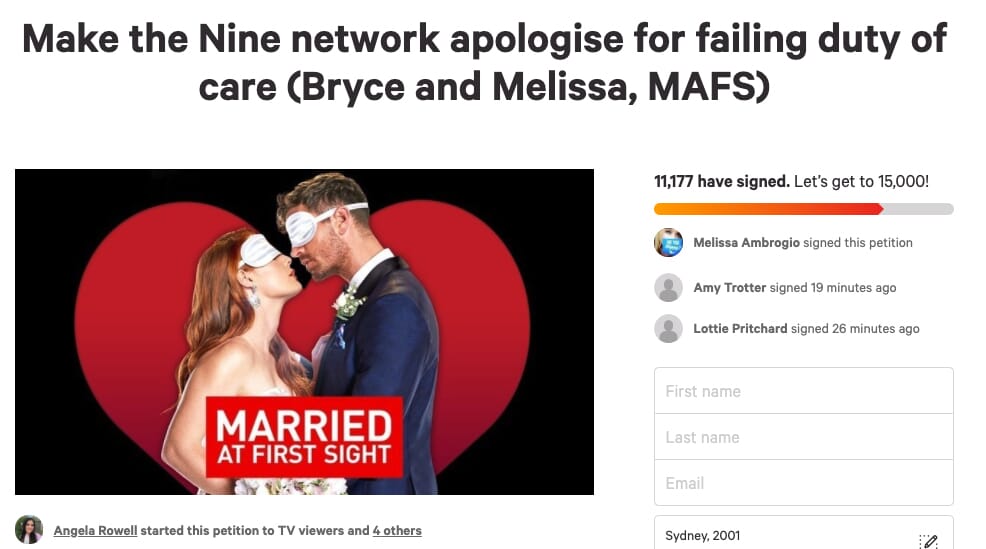 As of Tuesday, a petition urging Nine to apologise for allegedly 'failing their duty of care' towards Melissa has been signed by 11,174 people.
'There is a clear failure of duty of care to Melissa during filming of the show, allowing her to remain in a toxic and dangerous environment with her partner [Bryce Ruthven] for the "benefit" of the network,' the creator of the petition writes.
Melissa's relationship with Bryce has become one of the show's most controversial pairings ever, with viewers accusing the groom of 'gaslighting' and 'emotionally manipulating' his bride with his behaviour throughout the experiment.
Bryce's non-consensual kiss on Beck Zemek's cheek also caused outrage, with Beck revealing she asked for him to be removed from the show afterwards and 'production was shutdown'.
The Communications and Media Authority (ACMA) has now received 41 official complaints about the current season so far, and Married At First Sight faces an 'official investigation' if Channel Nine do not respond to the complaints within 60 days.
The mounting pressure from the public, and potential repercussions from what has already aired, may push producers to change their entire approach for next year's season, which is already casting, and reassess what is acceptable under the guise of 'entertainment'.
Yet despite the backlash, Melissa and Bryce have remained together and she claims viewers are only seeing a highly edited version of her man.
'I know the real Bryce, what everyone is seeing is a great edit – I'll say that,' Melissa recently told The Wash as the couple did press together.
When asked his thoughts on gaslighting claims, Bryce added: 'I didn't actually know what it was, I had to Google it. Look, people have their own opinion of me but the only ones I'm interested in are family, friends and Melissa. I'm all good with whatever is said about me, I have a pretty thick skin.'