Beck Zemek has revealed that production on Married At First Sight was shut down for 24 hours after Bryce Ruthven attempted to kiss her on the cheek, which she did not consent to.
After the scene, which was filmed in November during the cast's couples retreat trip, aired on Tuesday night, the business manager has said she felt 'violated' and asked producers for Bryce to be removed from the experiment.
Meanwhile, Bryce has claimed the whole thing has been taken out of context.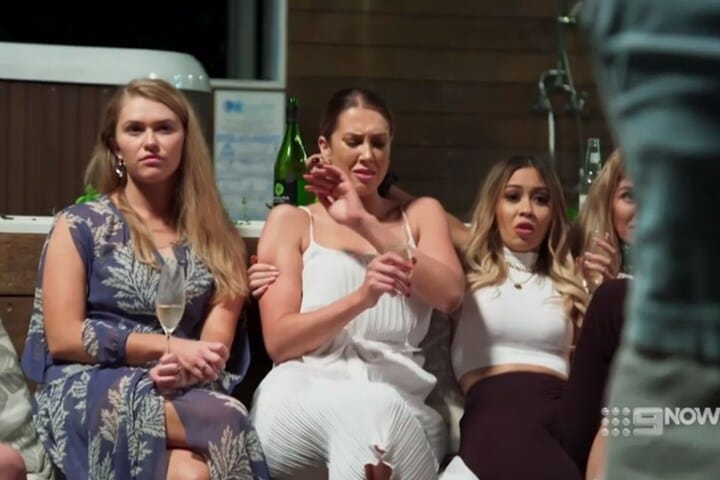 Here's what Beck told The Morning Crew with Hughesy, Ed and Erin about the kiss on Wednesday:
'I felt violated. It was one of those moments you'd bring the contract up and see what your rights are because I didn't sign up for this … We shut production down from this the next day. It was mentally mind-draining for me. It's harassment. I think you learn to keep your hands to yourself when you're in your first year of school… It was really hard for me to watch last night.'
Before the scene aired, Bryce told The Kyle & Jackie O Show it was meant to be a friendly gesture:
'It's not really a kiss. You know how you greet someone, give them a hug, kiss on the cheek sort of thing. She gives me a big shove away and then breaks down in fake tears.'

However, after the episode went to broadcast on Tuesday night, he told the Today show:
'Yeah that was a bit of a brain fart … Look, I guess the environment you are in, emotions are quite high. We have obviously seen the behaviour of Rebecca towards Melissa and I did take great offence to it. Jake is protecting his wife and the comments towards her. I'm also protecting my wife. It was a general hug, greeting type thing. I didn't expect to be shoved away. I thought she might laugh it off.'