This year's Big Brother was pre-recorded in October, and we're told that production wrapped with just three housemates remaining.
And it seems that the final three has now leaked, with both leading bookmakers suspiciously tipping the same trio to go all of the way.
According to SportsBet and TAB, Sarah Jane Adams, Marley Biyendolo and Christina Podolyan make it to the end, followed by Nicholas Benton who looks to have finished in fourth.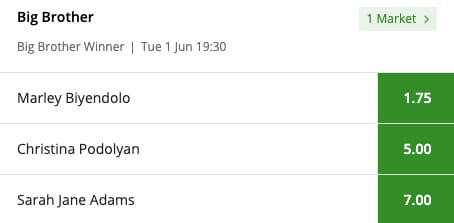 Although Marley, Christina and Sarah Jane making the final three is yet to be confirmed, the fact that both bookies have similar odds is very telling.
Usually with pre-recorded shows, many people 'in the know' race to bet on the contestant(s) they know go all the way once the season starts airing, with bookies then quickly adjusting their odds to match the influx of first bets from 'insiders'.
Which is likely the case here?
Similar to last year's season, the final three will face a public vote during a live studio finale at the end of the series with host Sonia Kruger.